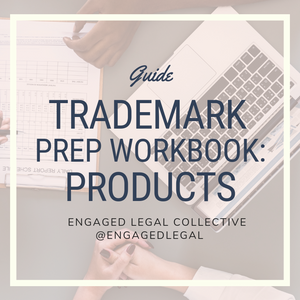 Thinking about trademarking your name, a slogan, or your logo?
Not sure what information you need or what you should bring to the meeting with your trademark attorney?
We've got you covered.
This fill-in-the-blank guide will make sure you've collected the details your attorney needs in one convenient place.  Plus, this guide is tailored towards a Product, ("goods" is the legal term) meaning we'll only be focusing on the information specifically needed for your type of application.
Who uses this guide? Anyone with:
- Physical product(s)
- Courses, guides, or workbooks
- Lightroom filters
- Boutique items
- Other "things" that are sold in-person or online!
Don't fit these descriptors? You're probably offering a Service.  Check out our other trademark guide for something that is tailored to your exact needs. 
Offer both products AND services?? We have a handy dandy bundle for you to buy both and save!