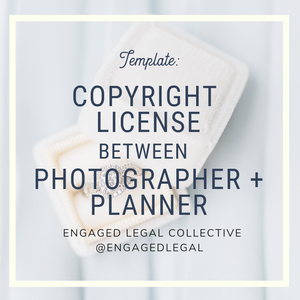 This is a COPYRIGHT LICENSE AGREEMENT between a photographer and a Wedding Planner / Event Planner. 
[Side Note: If you are another type of Wedding & Event pro, check our our general Copyright License to Use Photos, which is not Planner-specific!]
This Agreement will give limited rights associated with the photographs.  This will allow the Planner to use photos that were shot by the photographer at the Event in connection with the Planner's own marketing, social media, and industry submissions.  
This does not give the Planner exclusivity (which would mean no one else could use the photos) or the right to sell the photos.
Examples of who uses this type of Copyright License:
1) Wedding Planners who want photos of real weddings for blog submissions;
2) Event Planners who want to use photos of their events on their website
3) Photographers who want to let Planners use their images of events, but want proper attribution (tag me!) and control over the way the images are used (NO EDITING ALLOWED!)
As Always, this Agreement comes with a step-by-step, numbered guide on how to use it.  We keep it simple!
.
Want a full Copyright Transfer agreement instead of a non-exclusive license? Try our Copyright Transfer Agreement instead.